Le Metis – June 12, 2020
June 12, 2020

Welcome Newsletter not displaying properly? View it on our website.

(Read the President's Message in french below / Lire le mot du Président en français ci-dessous)

I think over these past couple of weeks we can finally say summer has arrived. We can finally take a moment and sit outside in the sun and think about how blessed we are to live in such a wonderful area of Canada.

Recently, the Manitoba Metis Federation (MMF) announced a new affordable housing initiative within the historic Metis settlement of St. Boniface on Eugenie Street. Giving our Metis Citizens access to affordable housing is critical to your Metis Government.

We are using our list of Metis contractors and Metis businesses to help construct and supply these projects to the best of our ability. It is incredibly important that these projects have a large economic impact within the Manitoba Metis Community. This will truly provide H.O.P.E by Helping Our People's Economy. Now is the time to invest in ourselves and our people.

It is also important that we are finding these lands and planing these projects in locations where plenty of proud Metis Citizens already live. We are doing our due diligence when planning and developing these projects. We need to ensure that our Metis Citizens do not have to leave their kin or Community behind in order to access services.

Our ancestors negotiated the Manitoba Act with the same thoughts in mind. They wanted to make sure that kinship ties were maintained and that they were not forced to disperse and lose that crucial connection. As we proved in the MMF v. Canada Supreme Court case in 2013, those lands were never distributed. Not only were our people removed from the Red River Settlement, but in the following decades they were also forcibly removed from their lands in St. Madeline, Rooster Town, and many other settlements across the Homeland.

As your Manitoba Metis Government, it is our responsibility to make sure that we protect our future generations from displacement. Over the past number of months, we have been searching the province far and wide for available land that we could develop and use to provide services to our Metis Citizens.

In the Northwest Region, we have been purchasing land and are now in the process of working with the local leaders to make sure projects move forward smoothly. Recently, I had the opportunity to go to Dauphin to meet with the mayors of Dauphin and Swan River to discuss the construction of daycare facilities as well as offices to serve our active Locals in the area. These plans are not exclusive to the Northwest region.

We are also currently looking at opportunities across the province to find places to build more Local Offices, daycare facilities, pharmacies, and housing facilities. These Local Offices are a huge step forward in our governance. During this COVID pandemic, we discovered opportunities for growth in our governance system, and are working towards a better communication strategy with our grassroots level of government.

The COVID-19 crisis also forced us to adapt and modernize our online infrastructure. We have been utilizing video conferencing platforms for our meetings whenever possible and have incorporated these into our weekly Cabinet meetings. We also began to use our website in ways that we never considered essential before. Our website is reaching record numbers of visits due in part to our daily video updates and livestreams.

Another event we would have never considered before COVID is the Metis Jig & Jam that will be livestreamed on June 21. This eight-hour variety show is part of our celebration of Manitoba 150, National Indigenous Peoples Day, and Father's Day, featuring the best in Metis entertainment. There will be world-class jiggers and fiddlers mixed with historical vignettes, Metis art, and teaching moments from our Metis Elders. In these unique times you can tune in on our website, mmf.mb.ca, from 12 pm to 8 pm, and watch on TV as there will be a one-hour feature on CTV News at 4 pm.

Another special event that we will be sure not to miss is convocation season, celebrating our Metis graduates. The Manitoba Metis Federation has been working on a provincial ceremony to acknowledge graduation for our Metis university and college graduates. Your Metis Government looks forward to accompanying our Metis students on their lifelong learning journey. Events are occurring across the province between June 19 and 25.

Rest assured, your Manitoba Metis Government, much like our Citizens, will emerge from this crisis evolved and, in some respects, further ahead than the way we entered.

On June 6, people across Canada and the world observed the 76th anniversary of D-Day. On June 6, 1944, the Allied Forces stormed a five-mile stretch of beaches in Normandy. Metis soldiers fought side-by-side with First Nations and non-Indigenous soldiers in all of Canada's pivotal battles, including D-Day. Though the Metis Nation was mistreated before and after the War, many felt that it was their patriotic duty to enlist and fight tyranny across the globe.

I hope everyone took time this past weekend to reflect and honour all Veterans, and if not, please take some time after reading this to honour all Veterans for their sacrifices.

Recently, we honoured our 23rd WWII Metis Veteran. WWII Metis Veteran William Hurteau received his $20,000 Recognition Payment in Sudbury on June 2. As the Minister responsible for the Metis Veterans file, I typically would go and spend a day talking with our heroes and listen to their inspirational stories. Unfortunately, as a result of pandemic protocols, I was unable to do that, but I was well represented by Brian Black, President of the Ontario Metis Veterans Council, and had the opportunity to talk on the phone with Veteran Hurteau.

It is critical that our WWII Metis Veterans and their families know that they will not be forgotten despite the pandemic.

I hope everyone is staying healthy and keeping their spirits up. Remember to tune into The Beat Goes On every Thursday at 7pm, and please note that, we will now broadcast our Saturday shows on Tuesdays at 7pm instead. The first Tuesday show will be on June 16. Red River Cart Adventures, our video series for Metis children presented by the Louis Riel Institute, also airs Tuesday, Thursday and Sunday mornings at 10am.

We are facing a new time during this COVID-19 era. I keep in my prayers all those effected by COVID-19 or facing struggles and loss. We know these are not easy times with the challenges we face. The MMF is working diligently on providing a new way forward with HOPE.

Your Manitoba Metis Government is here for you, now and always. Always remember: the MMF has got your back!

Meeqwetch,

MMF President David Chartrand Meet the stars of Red River Cart Adventures
Metis mother-son duo bring education and entertainment right to Metis households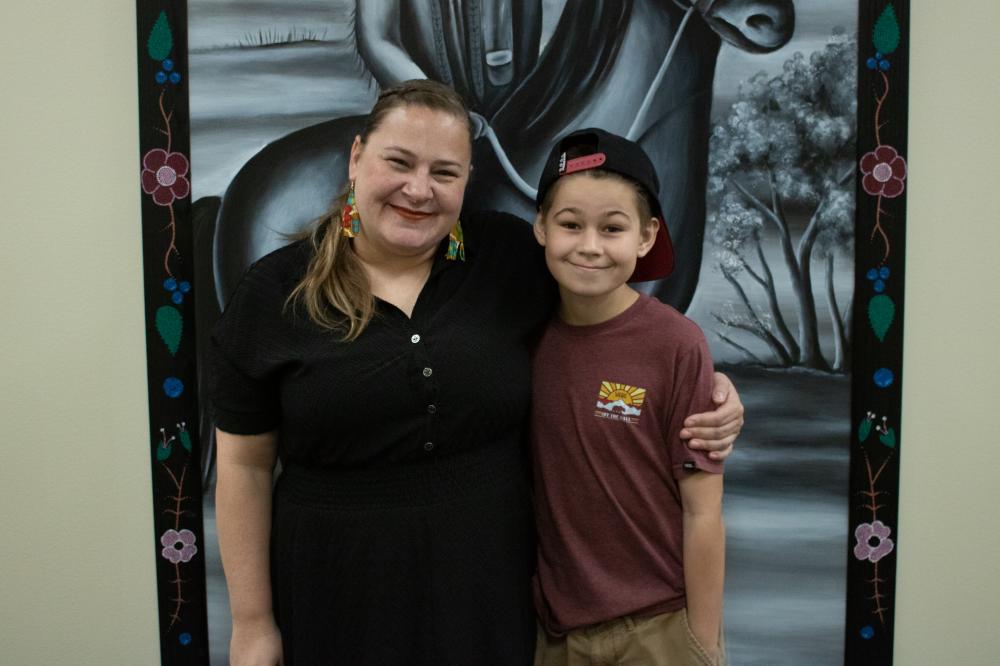 The stars of the Manitoba Metis Federation's (MMF) newest video series are a Metis mother-son duo, bringing education, entertainment and traditional Metis knowledge right to the homes of Citizens weekly.

Teresa and Mason Byrne make up two-thirds of the regular cast of Red River Cart Adventures, a children's show-style video series that streams on the MMF website every Tuesday morning at 10 am, presented by the Louis Riel Institute (LRI).

"We wanted to make sure that families that were self-isolating had something to watch and to learn," said Teresa, who also works as Metis History and Culture Coordinator for LRI.

COVID-19 resulted in the closure of daycares and schools province-wide, leaving parents to teach their own children. Without many Metis-specific resources out there geared towards early learners, MMF President David Chartrand requested that the Louis Riel Institute begin developing an online show for Metis children and their families to help entertain and educate them.

LRI jumped into action. Originally intended as a once-a-week show, the first episode of Red River Cart Adventures aired on April 28, 2020 on the MMF website and official Facebook page, starring LRI's Executive Director Sharon Parenteau, Teresa, and Mason.

"It was exciting for me to bring Mason on," said Teresa, who is also a beader and sash weaver. "We don't use a script – we just know our stuff. Being in front of the camera, it makes it easy because I'm just explaining crafts to Mason."

The response to the pilot episode was incredible. Over 3,300 Citizens tuned in to watch: a storytime, with Parenteau reading Have You Heard the Nesting Bird? by Rita Gray, the very first Michif word of the day, "Taanshi", a singalong song to help remember the word, and a lesson on making "birdnoculars" out of construction paper, led by Teresa and Mason. Also, viewers had the opportunity to pre-register for the show and enter for the chance to win a special prize: the episode's selected book.

Quite a few fans were made after that first episode – even some unexpected ones.

"After the first episode, President Chartrand loved it and asked us to do two more a week," said Teresa.

Shortly thereafter, two new weekly shows were added to the schedule, for a total of three shows a week: Tuesday's Red River Cart Adventures, Thursday's Meet Up with Mason and Sunday's Did You Know?, starring LRI Metis History and Culture Instructor Shirley Delorme Russell.

"There's all those tidbits of information hidden around the city about the Metis Nation that a lot of people don't know, and Shirley just loves that type of information," said Teresa about Did You Know?. "She's so good at expressing it and digging into it. To me, it's like another adventure!

While Red River Cart Adventures was aimed more for Metis early learners (ages three and up) and Did You Know? is more compatible for older kids and parents, Meet Up with Mason is a show for the whole family.

Moreover, Meet Up with Mason was an opportunity for the younger Byrne to flex his hosting chops all on his own. Every week, a new guest joins Mason in-studio for a fun activity, teaching him everything from making balloon animals to drawing caricatures to making bannock.

"My favourite part is doing the activities," said Mason, a grade 6 student at Edmund Partridge Community School in Winnipeg. "Hosting by myself is a little scary, but once I get over it, it's a lot easier."

Mason is the youngest of Teresa's three sons, and an avid skateboarder since he was just six years old. Together with his mother, two brothers, and his stepfather – John Sobkovich, who has appeared on Red River Cart Adventures several times to read for storytime in Michif – Mason can often be found at the skate park.

"The silly and great thing about our family is we actually all skateboard," said Teresa. "As soon as the snow melts, the boys are like, 'can we go to the skate park?!'"

As for Mason's dream guest on Meet Up with Mason, it's no question:

"My dream guest is probably President Chartrand," said Mason. "That would be really cool."

Tune in to Red River Cart Adventures every Tuesday morning at 10 am, Meet Up with Mason every Thursday morning at 10 am, and Did You Know? every Sunday morning at 10 am. Also, viewers can pre-register for the chance to win a prize during Tuesday's show. Visit http://www.manitobametis.com/louis-riel-institute/ for more information. MMF celebrating National Indigenous Peoples Day with eight-hour livestream For years, thousands would visit Selkirk Park for National Indigenous Peoples Day festivities, celebrating Metis culture, music, dancing, art, and nationhood. This year, due to restrictions surrounding COVID-19, celebrations will look very different.

The Manitoba Metis Federation (MMF) plans to livestream an eight-hour variety show on Sunday, June 21, to celebrate National Indigenous Peoples Day. The event, titled Metis Jig & Jam Variety Show, will be streamed on the MMF and Métis National Council websites from 12 – 8 pm, a portion of which will also air on CTV from 4 – 5 pm.

The show will feature Metis entertainment and culture, with jiggers, fiddlers, and other musicians, bannock making, beadwork displays, as well as a sashmaker, among other performances and activities.

"We've got something for everybody: for kids we've got a magician, we've got storytellers, we've got a comedian, we've got a whole bunch of pieces that are suitable for kids, so anybody can join in, and watch the show and be entertained," said Georgina Liberty, MMF Director – Metis Nation 2020/Metis 150.

The show will be streamed from the Park Theatre, with clips filmed at historic Metis sites across Manitoba. "It's an entertainment show, but it's also about teaching about our culture and our history in this province," she said.

The Metis Jig & Jam Variety Show will showcase events and items of historical significance for the Metis, from the fur trade, to blacksmithing, to Red River carts.

The show will be in French and English, with Michif speakers engaged in conversation in some of the pieces.

The goal of the variety show is "to lift people's spirits up through laughter and entertainment," during this difficult time of social isolation, said Liberty.

"Laughter has been one strength that has sustained Metis resilience throughout the dark ages. But more than laughter, we want to encourage people to stay strong, to bring them some hope of brighter days ahead and to educate them through our many historical vignettes that will be a part of the show." MMF investing $9 million this year for child care centers in Manitoba Metis communities The Manitoba Metis Federation (MMF) is investing $9 million this year on child care centers across Manitoba. The first MMF child care center, located in Duck Bay, is nearing the end of construction, with a grand opening scheduled for August, depending on COVID-19 restrictions. The Duck Bay child care centre will house the Abinoje Aboriginal Head Start Program for preschool-aged children. This Child Care Center will also house a local office and meeting room on the premises.

"It was our late Vice-President Elbert Chartrand's vison to have a child care center that would provide programming and services for our children and families in the community of Duck Bay. We are proud to honour his legacy and it will be a proud moment for his family when the doors open in September 2020," said MMF Minister of Health and Early Learning Child Care, Frances Chartrand, who serves as Vice-President of the MMF's Northwest Metis Council. "This is an exciting time for Metis children and families all across the province."

The MMF also plans to build child care centers in Swan River, Dauphin, Thompson, and Winnipeg.

The MMF is presently working with the province to ensure licensing is in place; however, construction will begin this summer for the locations across the province, which will be up and running by next year. The Thompson Region location will be developed in partnership with Keewatinowi Awasisak Opi-Ki-Wak, and the Winnipeg Region location will house Little Stars Day Care.

"We want to start construction this summer," said Minister Chartrand, adding that for these projects, the MMF would like to have the exterior completed this summer in order for contractors to work on the interior in the winter. "This will also boost the economy and ensure employment for our contractors as we continue to work during the pandemic."

MMF's Early Learning Child Care Department continues to conduct feasibility studies to determine the demand for child care centres in Metis communities across the province, including the MMF Home Office in Winnipeg, in partnership with Infinity Women Secretariat.

This would allow employees to "come to work and know their children are in a safe, healthy environment and are in the same building as their parents," said Minister Chartrand.

The MMF child care center will provide Metis-specific cultural programming, focusing on Metis families and children. "We want to make sure that we look at a component where we are working with our families, Elders, incorporating land-based initiatives," said Minister Chartrand.

MMF recognized the high demand for child care across the province, especially for Metis families, in these communities. "There are waiting lists at all existing day care centers," said Minister Chartrand.

"When you talk about essential workers, especially during COVID, you look at the line workers that are out there. Our Metis parents are doing essential services work; however, they do not have child care," she added. "I think they will have a secure, sound mind that their Metis government is working on a plan to ensure child care services for our children will be available." MMF Interlake Region provides supplies to Citizens during COVID-19 pandemic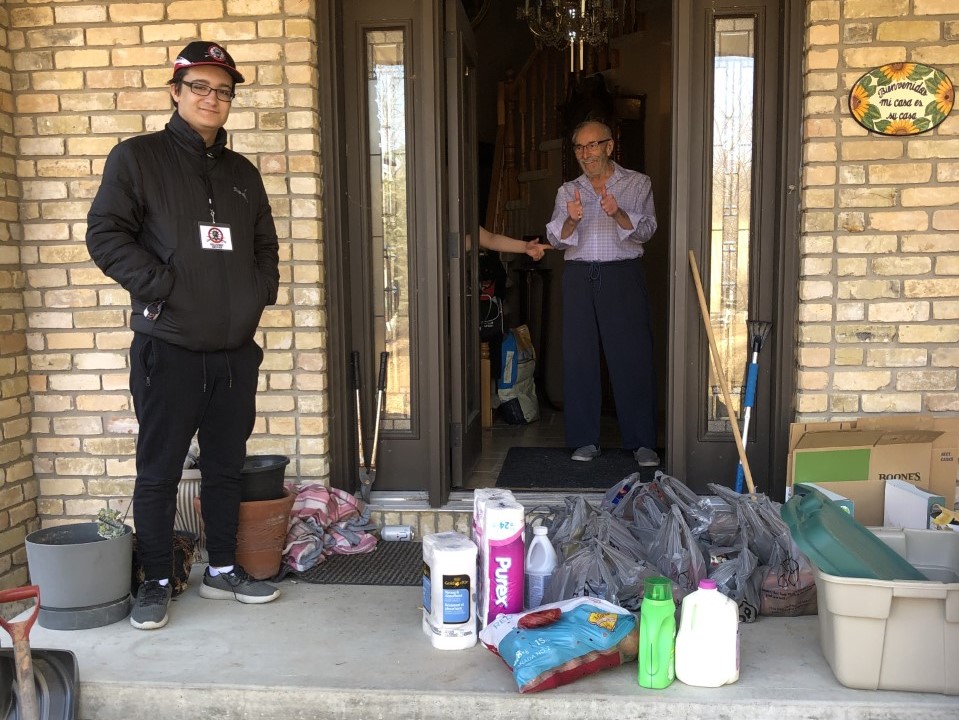 The MMF's Interlake Metis Association Inc. has delivered nearly 550 hampers to Metis Elders, families, and vulnerable Citizens. The Manitoba Metis Federation (MMF) has been working to identify and offer supports to Metis Citizens during the COVID-19 pandemic.

In the Interlake Region – which includes, among others, Riverton, St. Laurent, Selkirk, Stonewall, Teulon – the MMF's Interlake Metis Association Inc. has delivered nearly 550 hampers to Metis Elders, families, and vulnerable Citizens. The MMF has gathered and delivered 4,500 hampers across Manitoba since the end of March.

MMF Minister of Energy and Infrastructure Jack Park, who serves on the Board of Directors of the Interlake Metis Association Inc., said his Region had nearly 300 requests for hampers to date. "That's all over the Interlake," he said, adding that St. Laurent and Selkirk are big areas for demand.

Minister Park said a lot goes into putting the hampers together. "It takes a lot of logistics in terms of setting up accounts with grocery stores, getting drivers, and so on.

"So far, we've been very, very successful in getting those hampers out in a timely manner, so we're quite pleased with the way things are working. And the people receiving the hampers are very, very happy, and appreciative."

Minister Park praises the Interlake Region's team – which includes Minister of Culture and Heritage and Vice-President Alfred Anderson, and Minister of Metis Child & Family Services Mona Buors – who he said has been instrumental in finishing all of the paperwork, and getting all of the orders in to the grocery stores and delivered to the recipients. "It's such a vast region," adds Minister Park.

He also commends the Locals that are assisting, "because without them we wouldn't be able to do the job we do."

The Region's next goal is to set up a food bank in St. Laurent to have groceries coming directly out of the St. Laurent office. "Right now, we're shipping groceries from Stonewall to St. Laurent, and there is a lot of driving back and forth. We can eliminate it if we stock the food bank, so we're going to start doing that."

When asked what message Minister Park would like to send to Citizens, he said, "We got their backs. We're here for them and we'll do our best to make sure that they get everything they need. We'd appreciate it if they stay home and allow us to serve them."

Metis Citizens seeking supports in the Interlake Region can email info@intma.ca or call 866-317-3347 or 204-646-2706. Upcoming Community Events The Beat Goes On Tuesday & Thursday evenings at 7pm Livestream at www.manitobametis.com/mmf-live-stream/ Red River Cart Adventures Tuesdays at 10am Livestream at www.mmf.mb.ca
Meet Up with Mason
Thursdays at 10am
Livestream at www.mmf.mb.ca

Did You Know?
Sundays at 10am
Livestream at www.mmf.mb.ca Have an upcoming Metis event in your area? Send us the event information at communications@mmf.mb.ca and it might be included in the next issue of Le Metis! Employment & Training The Manitoba Metis Federation and its affiliates are currently seeking applicants for various positions across Manitoba. Current opportunities include: Policy Analyst – Early Learning and Child Care Application deadline: June 14, 2020 Project Officer – Youth Programming Application deadline: June 14, 2020

Health Research Assistant
Application deadline: June 16, 2020

Research Assistant – Early Learning and Child Care
Application deadline: June 16, 2020

Account Manager – MEDO
Application deadline: June 17, 2020

Human Resources Generalist
Application deadline: June 19, 2020

Program Officer
Application deadline: June 19, 2020

Research Assistant – Northwest Region
Application deadline: June 23, 2020

Research Assistant – The Pas Region
Application deadline: June 23, 2020

Fish and Fish Habitat Coordinator
Application deadline: June 24, 2020
Browse Full List of Current Opportunities Connect with us online!
Le 12 juin 2020

Bienvenue

Je pense qu'au cours de ces dernières semaines, nous pouvons enfin dire que l'été est arrivé. Nous pouvons enfin prendre un moment pour nous asseoir dehors au grand soleil et penser à la chance que nous avons de vivre dans une si belle région du Canada.

Récemment, la Fédération Métisse du Manitoba (FMM) a annoncé une nouvelle initiative de logement abordable au sein du territoire métis historique de Saint-Boniface, sur la rue Eugénie. Il est essentiel pour votre Gouvernement métis de donner à nos citoyens métis l'accès à de tels logements.

Nous utilisons notre liste d'entreprises et d'entrepreneurs métis pour aider à construire et à fournir ces projets du mieux possible. Il est absolument essentiel que ces projets aient des répercussions économiques importantes au sein de la collectivité métisse du Manitoba, ce qui apportera de l'espoir en stimulant l'économie de notre peuple. Le moment est venu d'investir dans notre communauté et dans notre peuple.

Il est également important que nous trouvions ces terres et que nous planifiions ces projets dans des endroits où demeurent déjà bon nombre de fiers citoyens métis. Nous faisons preuve de diligence raisonnable dans la planification et la mise en œuvre de ces projets. Nous devons nous assurer que nos citoyens métis n'ont pas à s'éloigner de leurs proches ou de leur communauté pour accéder aux services.

Nos ancêtres ont négocié la Loi sur le Manitoba dans cette perspective. Ils voulaient veiller à ce que les liens de parenté soient maintenus et que les Métis ne soient pas obligés de se disperser et de perdre ces liens cruciaux. Comme nous l'avons constaté dans l'affaire Manitoba Metis Federation Inc. c. Canada devant la Cour suprême en 2013, ces terres n'ont jamais été distribuées. Notre peuple a non seulement été expulsé de la colonie de la Rivière-rouge, mais au cours des décennies suivantes, il a été expulsé de force de ses terres à Sainte-Madeleine et à Rooster Town et de nombreuses autres colonies dans l'ensemble de la patrie.

En tant que votre Gouvernement métis du Manitoba, il est de notre responsabilité de nous assurer que nous protégeons les générations futures contre le déplacement. Au cours des derniers quelques mois, nous avons cherché dans toute la province des terres disponibles en vue de les aménager et de les utiliser pour fournir des services à nos citoyens métis.

Dans la région du Nord-Ouest, nous avons acheté des terres et nous travaillons actuellement avec les dirigeants locaux pour nous assurer que les projets avancent sans problème. J'ai récemment eu l'occasion de me rendre à Dauphin pour rencontrer son maire, ainsi que celui de Swan River afin de discuter de la construction de garderies et de bureaux au bénéfice de nos locaux actifs dans cette région. Ces projets ne visent pas exclusivement la région du Nord-Ouest.

Actuellement, nous cherchons également des occasions de construire des bureaux locaux, des garderies, des pharmacies et des logements dans l'ensemble de la province. Ces bureaux locaux représentent une grande avancée pour notre gouvernance. Pendant cette pandémie de la COVID-19, nous avons découvert des possibilités de croissance dans notre système de gouvernance et nous travaillons à une meilleure stratégie de communication au niveau communautaire.

La crise de la COVID-19 nous a également obligés à adapter et à moderniser notre infrastructure en ligne. Nous utilisons des plates-formes de vidéoconférence pour nos rencontres autant que possible et nous les avons intégrées à nos réunions hebdomadaires du Cabinet. Nous avons également commencé à utiliser notre site Web d'une manière que nous n'avions jamais auparavant considérée comme essentielle. Les visites sur notre site Web atteignent un niveau record notamment en raison de nos mises à jour vidéo quotidiennes et nos émissions en direct.

Un autre évènement que nous n'aurions jamais envisagé avant la COVID-19 est le Spectacle virtuel de gigue et de musique métisses, lequel sera diffusé en direct le 21 juin. Ce spectacle de variétés d'une durée de huit heures fait partie de nos célébrations du 150e anniversaire du Manitoba, de la Journée nationale des peuples autochtones et de la fête des Pères et présente le meilleur du divertissement métis. Il y aura des danseurs de gigue et des violoneux de classe mondiale, des vignettes historiques, de l'art métis et des moments d'enseignement de la part de nos aînés métis. En ce temps unique de l'histoire, vous pouvez regarder le spectacle depuis notre site Web à l'adresse mmf.mb.ca, de midi à 20 heures ou suivre un métrage d'une heure sur la chaine de CTV à 16 heures.

Un autre évènement spécial que nous nous assurerons de célébrer est la cérémonie des remises de diplômes, laquelle reconnaît nos diplômés métis. La FMM travaille à l'organisation d'une cérémonie provinciale pour nos diplômés métis visant à souligner la fin de leurs études universitaires et collégiales. Votre Gouvernement métis est impatient d'accompagner nos étudiants métis tout au long de leur parcours éducatif. Les évènements auront lieu dans toute la province du 19 au 25 juin.

Soyez assurés que votre Gouvernement métis du Manitoba, tout comme nos citoyens, sortira de cette crise éclairé et, à certains égards, plus avancé que lorsqu'il y est entré.

Le 6 juin, les gens du Canada et du monde entier ont souligné le 76e anniversaire du jour J. C'est ce jour même en 1944 que les forces alliées ont envahi les plages de la Normandie sur une longueur de cinq milles. Les soldats métis ont combattu aux côtés des soldats des Premières Nations et des soldats non autochtones dans toutes les batailles décisives dans lesquelles le Canada a été impliqué, y compris celle du jour J. Bien que la Nation métisse ait été maltraitée avant et après la guerre, beaucoup estiment qu'il était de leur devoir patriotique de s'enrôler et de se battre contre la tyrannie à travers le monde.

J'espère que tout le monde a pris du temps cette fin de semaine pour se recueillir et honorer tous les anciens combattants. Sinon, veuillez le faire après avoir lu ce mot afin de commémorer tous les anciens combattants pour leur sacrifice.

Récemment, nous avons rendu hommage à notre 23e ancien combattant métis. L'ancien combattant métis de la Seconde Guerre mondiale, William Hurteau, a reçu son chèque de 20 000 dollars à Sudbury le 2 juin. En tant que ministre responsable des anciens combattants, j'ai l'habitude d'aller passer une journée à parler avec nos héros et à écouter leurs histoires inspirantes. Malheureusement, en raison des protocoles de pandémie, je n'ai pas pu le faire, mais j'ai été bien représenté par Brian Black, le président du Conseil des vétérans de la Nation métisse de l'Ontario, et j'ai pu parler au téléphone avec l'ancien combattant William Hurteau.

Il est essentiel que nos anciens combattants métis de la Seconde Guerre mondiale et leur famille sachent que nous ne les oublierons jamais, même en temps de pandémie.

J'espère que vous restez tous en bonne santé et que vous gardez le moral. N'oubliez pas de suivre la diffusion en direct de Le Spectacle continu chaque jeudi à 19 heures et veuillez noter que nous diffuserons désormais le programme du samedi les mardis à 19 heures. L'émission du premier mardi aura lieu le 16 juin. La série vidéo pour enfants métis intitulée Red River Cart Adventures, laquelle est présentée par l'Institut Louis-Riel, est diffusée les mardis, les jeudis et les dimanches matin à 10 heures.

Nous faisons face à une nouvelle époque durant cette crise de la COVID-19. Je garde toujours présents dans mes prières tous ceux qui sont touchés par la COVID-19, qui rencontrent des difficultés ou qui sont confrontés à la perte d'un proche. Nous savons que nous traversons une période difficile compte tenu des défis qui se présentent à nous. La FMM poursuit ses efforts afin d'offrir une nouvelle façon de progresser avec de l'espoir.

Votre Gouvernement métis du Manitoba est là pour vous, maintenant et toujours. N'oubliez jamais que la FMM est à vos côtés!

Meeqwetch,

Président de la FMM, David Chartrand Rencontrez les vedettes de l'émission Red River Cart Adventures
Un duo mère-fils métis met l'éducation et le divertissement à la portée des foyers métis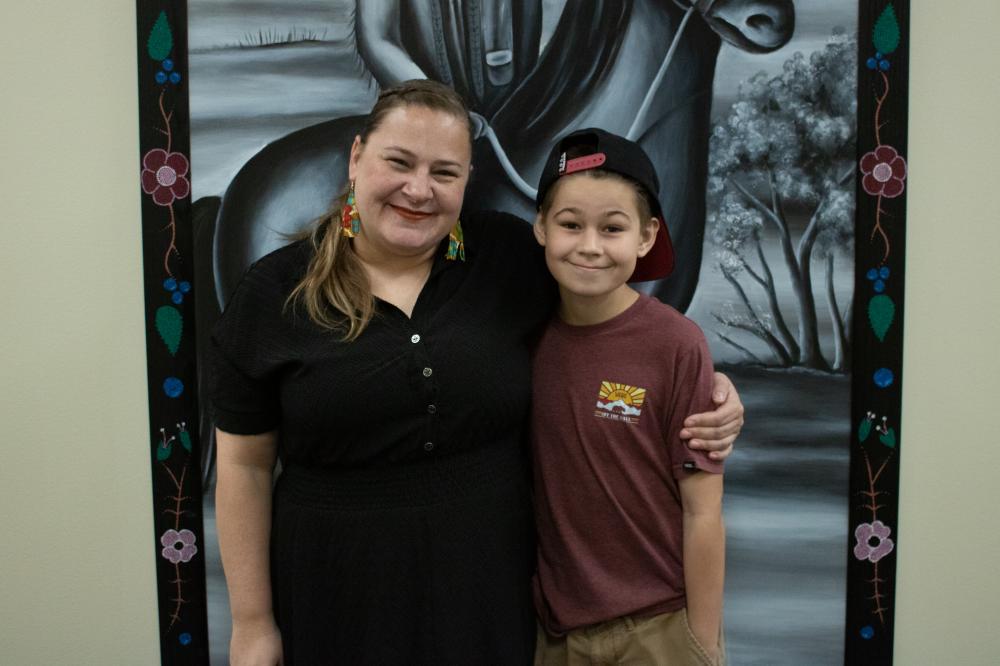 Les vedettes de la nouvelle série vidéo lancée par la Fédération Métisse du Manitoba (FMM) sont un duo mère-fils métis, qui apporte chaque semaine l'éducation, le divertissement et le savoir traditionnel métis dans les foyers des citoyens.

Teresa et Mason Byrne sont deux des trois animateurs de Red River Cart Adventures, une émission pour enfants réalisée par l'Institut Louis-Riel (ILR) et diffusée sur le site Web de la FMM tous les mardis matin à 10 heures.

« Nous voulions nous assurer que les familles qui se plaçaient en auto-isolement pouvaient regarder et apprendre quelque chose », a déclaré Teresa, qui travaille également comme coordonnatrice de l'histoire et de la culture métisse pour l'ILR.

La fermeture des garderies et des écoles manitobaines en raison de la pandémie de la COVID-19 a donné aux parents la responsabilité d'éduquer leurs enfants. En l'absence de nombreuses ressources propres aux Métis destinées aux jeunes, le président de la FMM, David Chartrand, a demandé à l'ILR de créer une émission en ligne ayant pour but de divertir et d'éduquer les enfants métis et leurs familles.

L'ILR est passé à l'action. La première émission de Red River Cart Adventures, qui devait au départ n'être présentée qu'une fois par semaine, a été diffusée le 28 avril 2020 sur le site Web et la page Facebook officielle de la FMM et interprétée par Sharon Parenteau, directrice générale de l'ILR ainsi que Teresa et Mason.

« C'était excitant pour moi de faire venir Mason, a déclaré Teresa, qui confectionne également des objets perlés et des ceintures fléchées. Nous n'écrivons rien, puisque nous savons ce que nous faisons. Être devant la caméra rend les choses plus faciles parce que je ne fais qu'expliquer les activités de bricolage à Mason. »

La réaction du public à la première émission a été incroyable. Plus de 3 300 citoyens l'ont regardé. Sharon Parenteau a lu le livre Have You Heard the Nesting Bird? de Rita Gray et Teresa et Mason ont présenté le tout premier mot michif du jour, Taanshi, et une chanson pour l'apprendre en plus d'animer une activité de bricolage, soit une paire de « jumelles-oiseaux » en papier de construction. Les spectateurs pouvaient s'inscrire pour courir la chance de gagner un prix spécial, soit le livre qui a été présenté à l'émission.

Nous avons eu l'occasion de nous faire de nouveaux amis en raison de cette première émission. Certains entre eux étant inattendus.

« Le président David Chartrand a tellement adoré la première émission qu'il nous a demandé d'en ajouter deux autres par semaine », a raconté Teresa.

Peu de temps après, deux nouvelles émissions hebdomadaires ont été ajoutées, pour un total de trois émissions par semaine. Les mardis, l'émission Red River Cart Adventures est présentée, les jeudis, c'est l'émission Venez apprendre avec Mason qui est diffusée et les dimanches, Shirley Delorme, enseignante de l'histoire et de la culture métisses à l'ILR, anime l'émission Le saviez-vous?

« Il y a beaucoup de renseignements sur la Nation métisse cachés à Winnipeg que de nombreux gens ne connaissent pas et Shirley adore ce genre de renseignements, a déclaré Teresa à propos de l'émission Le saviez-vous? Elle est tellement douée pour les découvrir et les partager avec les autres. Pour moi, c'est comme une nouvelle aventure! »

Alors que Red River Cart Adventures s'adresse davantage aux jeunes métis à partir de trois ans et que Le saviez-vous? est conçu pour les enfants plus âgés et les parents, Venez apprendre avec Mason est une émission pour toute la famille.

De plus, cette dernière a permis à Mason de faire son numéro d'animateur. Chaque semaine, un nouvel invité le rejoint en studio pour lui proposer une activité amusante, que ce soit la fabrication d'animaux en ballons gonflables, le dessin de caricatures ou la fabrication de bannock.

« Je préfère les activités, a admis Mason, un élève de sixième année à l'école communautaire Edmund Partridge de Winnipeg. Animer l'émission tout seul fait un peu peur, mais une fois que je m'en remets, c'est beaucoup plus facile. »

Mason est le cadet de sa fratrie et un fervent planchiste depuis l'âge de six ans. Avec sa mère, ses deux frères et son beau-père, John Sobkovich, lequel a participé plusieurs fois à l'émission Red River Cart Adventures pour lire des histoires en michif, Mason est souvent au planchodrome.

« Ce qui est bête et génial dans notre famille, c'est que nous faisons tous de la planche à roulettes, a raconté Teresa. Dès que la neige fond, les garçons nous demandent s'ils peuvent aller au planchodrome. »

Quant à l'invité de rêve de Mason, il n'y a pas de doute.

« Mon invité de rêve est probablement le président David Chartrand, a déclaré Mason. Ce serait vraiment cool. »

Regardez Red River Cart Adventures les mardis à 10 heures, Venez apprendre avec Mason les jeudis à 10 heures et Le saviez-vous? les dimanches à 10 heures. Les téléspectateurs peuvent également s'inscrire pour courir la chance de gagner un prix pendant l'émission du mardi. Pour obtenir de plus amples renseignements, consultez le site Web de l'ILR à l'adresse http://www.manitobametis.com/louis-riel-institute/ (en anglais seulement). La FMM célèbre la Journée nationale des peuples autochtones avec un spectacle en direct d'une durée de huit heures Pendant des années, des milliers de gens se sont rendus au parc Selkirk pour participer aux festivités de la Journée nationale des peuples autochtones et pour célébrer la culture, la musique, la danse, l'art et le statut de nation des Métis. Cette année, en raison des restrictions entourant la COVID-19, les festivités seront bien différentes.

La Fédération Métisse du Manitoba (FMM) a programmé la diffusion d'un spectacle de variétés en direct d'une durée de huit heures le dimanche 21 juin pour fêter la Journée nationale des peuples autochtones. L'évènement, intitulé Spectacle virtuel de gigue et de musique métisses, sera diffusé sur les sites Web de la FMM et du Ralliement national des Métis de midi à 20 heures. Une partie du spectacle sera également diffusée sur la chaîne CTV de 16 à 17 heures.

Le spectacle mettra en vedette des artistes métis, tels que des danseurs de gigue, des violoneux et une fabricante de ceintures fléchées, ainsi que la culture métisse, telle que la fabrication de pain bannock et une exposition de perlage.

« Nous avons quelque chose pour tout le monde. Pour les enfants, nous aurons un magicien, des conteurs et une comédienne. Plusieurs activités seront adaptées à l'âge des enfants, ce qui fait que n'importe qui peut participer, admirer le spectacle et se divertir », annonce Georgina Liberty, directrice des célébrations métisses du 150e anniversaire de l'entrée du Manitoba dans la Confédération pour la FMM.

Le spectacle sera diffusé depuis le Park Theatre et inclura des extraits vidéos de sites historiques métis dans l'ensemble du Manitoba. « Il s'agit d'un spectacle non seulement conçu pour divertir, mais également pour partager notre culture et notre histoire avec les Manitobains », dit-elle.

Le Spectacle virtuel de gigue et de musique métisses présentera des évènements et des objets d'importance historique pour les Métis, de la traite des fourrures et l'ouvrage de forge jusqu'aux charrettes de la rivière Rouge.

Il sera diffusé en français et en anglais, avec des personnes parlant le michif dans quelques segments.

Selon Georgina Liberty, le but du spectacle de variétés est de « remonter le moral des gens en utilisant l'humour et le divertissement » durant cette période difficile d'isolement.

« Le rire a été l'une des forces qui ont soutenu les Métis alors qu'ils traversaient la période noire. Nous voulons le rire, mais plus encore, nous voulons encourager les gens à rester forts. Nous voulons leur apporter l'espoir de jours meilleurs et leur partager nos connaissances avec eux au moyen de plusieurs vignettes historiques qui feront partie du spectacle. » La FMM investira neuf millions de dollars dans la construction de garderies au sein des collectivités métisses du Manitoba cette année Cette année, la Fédération Métisse du Manitoba (FMM) investira neuf millions de dollars dans la construction de garderies dans l'ensemble du Manitoba. La première garderie de la FMM, située à Duck Bay, est en fin de construction et son ouverture est prévue pour le mois d'août, en fonction des restrictions liées à la COVID-19. Cette garderie accueillera le programme Abinoje, soit un programme d'aide préscolaire aux Autochtones, et disposera également d'un bureau local sur place ainsi qu'une salle de réunion.

« C'était la vision de notre regretté vice-président Elbert Chartrand d'avoir une garderie dans la communauté de Duck Bay qui fournirait des programmes et des services pour nos enfants et nos familles. Nous sommes fiers d'honorer son héritage et ce sera un moment de fierté pour sa famille lorsque les portes s'ouvriront en septembre 2020 », a déclaré Frances Chartrand, ministre de la Santé et des Services de garde et d'apprentissage des jeunes enfants de la FMM, qui occupe le poste de vice-présidente du Conseil des Métis du Nord-Ouest de la FMM. « Il s'agit d'un grand moment pour les familles et les enfants métis de toute la province. »

La FMM prévoit également la construction de garderies à Swan River, à Dauphin, à Thompson et à Winnipeg.

Elle travaille actuellement avec la province pour s'assurer que les licences appropriées sont délivrées. Cependant, les travaux de construction visant toutes les garderies débuteront cet été et ces dernières seront opérationnelles d'ici l'année prochaine. La garderie située à Thompson sera conçue en partenariat avec la garderie Keewatinowi Awasisak Opi-Ki-Wak et celle située à Winnipeg abritera la garderie Little Stars.

« Nous voulons commencer la construction cet été », a déclaré la ministre Frances Chartrand, ajoutant que pour ces projets, la FMM aimerait que les travaux extérieurs soient terminés au cours de l'été afin que les entrepreneurs puissent effectuer les travaux intérieurs pendant l'hiver. « Cela permettra également de stimuler l'économie et de garantir l'emploi de nos entrepreneurs alors que nous continuerons à travailler pendant la pandémie. »

En partenariat avec le Secrétariat de la femme métisse, le ministère des Services de garde et d'apprentissage des jeunes enfants de la FMM mènera également des études de faisabilité afin de déterminer la demande de garderies dans les communautés métisses de la province, notamment au siège de la FMM à Winnipeg.

Cela permettrait aux employés « de venir au travail et de savoir que leurs enfants sont dans un milieu sain et sécuritaire et dans le même bâtiment qu'eux », a raconté la ministre Frances Chartrand.

Les garderies de la FMM fourniront une programmation culturelle propre aux Métis, axée sur les familles et les enfants métis. « Nous voulons nous assurer que nous travaillons avec nos familles et nos aînés lorsque nous y intégrons des initiatives axées sur la terre », a déclaré la ministre Frances Chartrand.

La FMM a reconnu la forte demande de services de garde d'enfants dans ces communautés manitobaines, en particulier pour les Métis. « Il y a des listes d'attente dans toutes les garderies existantes, a confirmé la ministre Frances Chartrand.

« Lorsque nous pensons aux travailleurs essentiels, en particulier pendant la pandémie, nous pensons aux travailleurs de première ligne. Nos parents métis travaillent dans les services essentiels, mais ils n'ont nulle part où placer leurs enfants, a-t-elle ajouté. Je pense qu'ils seront rassurés par le fait que leur Gouvernement métis travaille sur un plan visant à garantir la disponibilité de services de garde pour nos enfants. » La région d'Entre-les-Lacs de la FMM approvisionne les citoyens durant la pandémie de la COVID-19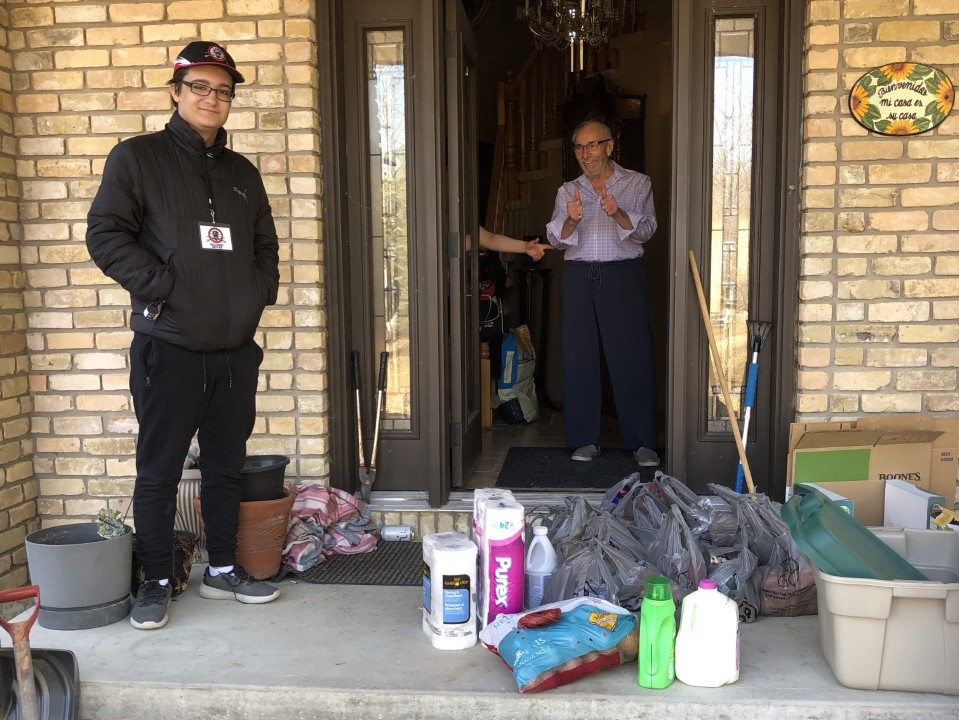 L'Association métisse d'Entre-les-Lacs de la FMM a livré presque 550 paniers alimentaires aux aînés, aux familles et aux citoyens métis vulnérables. La Fédération Métisse du Manitoba (FMM) s'est efforcée de déterminer les soutiens nécessaires et de les offrir aux citoyens métis durant la pandémie de la COVID-19.

Dans la région d'Entre-les-Lacs, laquelle comprend parmi d'autres Riverton, Saint-Laurent, Selkirk, Stonewall et Teulon, l'Association métisse d'Entre-les-Lacs de la FMM a livré presque 550 paniers alimentaires aux aînés, aux familles et aux citoyens métis vulnérables. La FMM a assemblé et livré environ 4 500 paniers dans l'ensemble du Manitoba depuis la fin mars.

Le ministre de l'Énergie et de l'Infrastructure de la FMM, Jack Park, qui siège au conseil d'administration de l'Association métisse d'Entre-les-Lacs, indique que sa région a reçu presque 300 demandes de paniers jusqu'à présent. « Ces demandes émanent de partout dans la région », dit-il en ajoutant que la demande est plus grande à Saint-Laurent et à Selkirk.

Le ministre Jack Park affirme que beaucoup de travail est consacré à l'assemblage des paniers. « Il y a beaucoup de questions logistiques à résoudre lorsque nous voulons ouvrir un compte dans une épicerie ou embaucher des chauffeurs.

« Nous avons très bien réussi, jusqu'à présent, à livrer ces paniers alimentaires en temps opportun et nous sommes donc très heureux de la manière dont cela se déroule. Les gens qui les reçoivent sont extrêmement heureux et reconnaissants. »

Le ministre Jack Park a chanté les louanges à l'équipe de la région d'Entre-les-Lacs, dont fait partie le ministre de la Culture et du Patrimoine et le vice-président de la région, Alfred Anderson, ainsi que la ministre des Services à l'enfant et à la famille, Mona Buors. Le ministre Jack Park dit que cette dernière a joué un rôle clé dans la finalisation des documents, dans l'assemblage et la livraison des commandes d'épicerie, ainsi que dans la livraison des paniers alimentaires aux destinataires. « C'est une région vaste », ajoute-t-il.

Il félicite également les locaux de la région qui fournissent de l'aide, « parce que sans eux, nous ne pourrions pas faire le travail que nous faisons ».

La région a également organisé une banque alimentaire à Saint-Laurent pour faire en sorte que les produits d'épicerie proviennent directement du bureau qui y est situé. « Avant, nous expédions des provisions de Stonewall à Saint-Laurent, ce qui engendrait beaucoup de kilométrage. Nous avons pu mettre fin à cela en approvisionnant la banque alimentaire. »

Lorsqu'on lui a demandé quel message il voudrait transmettre aux citoyens, le ministre Jack Park a dit, « Nous les soutenons. Nous sommes là pour eux et nous ferons de notre mieux pour nous assurer qu'ils ont tout ce dont ils ont besoin. Nous souhaitons qu'ils restent chez eux et qu'ils nous permettent de les servir. »

Les citoyens métis qui cherchent du soutien dans la région d'Entre-les-Lacs peuvent communiquer avec l'Association par courriel à l'adresse info@intma.ca ou par téléphone en composant le 1 866 317-3347 ou le 204 646-2706. Comment nous trouver en ligne!
President's Message
On behalf of Cabinet and all the staff of the Manitoba Metis Federation (MMF), it is our sincerest wish that you had an enjoyable Easter weekend spending quality time with your family in your home. We trust that you all practiced physical distancing and will continue to protect yourselves and your family by staying in your homes as we take the necessary steps to both wait out and defeat this COVID-19 pandemic. While difficult, self-isolation is the key to help us beat this virus. We need to take this threat to our safety and well-being seriously.
As you may already know, we have been working on a province-wide Health Action Plan to ensure we get our services out to our Citizens. Although your Metis Government is partially closed – and we do have people working from home and behind closed doors to maintain social distancing practices – it is our responsibility as the MMF Cabinet and staff to continue to serve our Citizens. The MMF has been maintaining critical services, and I want to thank the Minister of Finance and Human Resources, Anita Campbell, and the Minister of Health & Early Learning Child Care, Frances Chartrand, for leading the charge on this action plan.
Active COVID-19 cases in Manitoba are rising, and we are now seeing evidence of community spread. This means that it is not only people who have travelled internationally who have this virus. We have not heard of any Metis Citizens who have contracted the virus, but we are preparing for when it does hit our Metis towns and villages.
Our action plan has a communications component to keep our Citizens informed. Our website at www.mmf.mb.ca is being updated daily with national, provincial, and MMF news about our fight against COVID-19.
Our website is a trusted source and we are pleased to accommodate the growth of users we are experiencing as a result of our new daily update videos. Our Information Technology department has expanded our platform to accommodate the technical increase and demands that our site is experiencing.
With that I am pleased to share that the Louis Riel Institute (LRI) is exploring new videos for families that will be posted on our website. Ideas include: Metis storytime, early years book activities, home science experiments, music and dance lessons, Michif word/phrase of the day, and puppetry. It is our hope that these videos will help with the challenges some families are facing at home.
Some people at home are experiencing stress. Many have been laid off due to the virus, and they're trying to figure out how to pay their bills or keep their businesses open. We have a plan for them. According to the Federal Government, more than one million Canadians lost their jobs in the month of March. These are heartbreaking numbers. If you've been affected by COVID-19, please don't hesitate to contact your Metis Government.
We have already committed to helping out Metis employees who have been laid off due to COVID-19, and Metis entrepreneurs who are struggling to keep their businesses afloat. We're giving families between $750 and $1,000 to help pay essential bills. The Louis Riel Capital Corporation is providing Metis entrepreneurs negatively impacted by the COVID-19 pandemic with contributions between $1,000 and $10,000 and deferring loan payments for up to six months for existing clients.
MMF continues to deliver hundreds of hampers to our Elders and other vulnerable individuals. We cherish our Elders and do not want them going outside, so we're dedicated to giving them the resources they need to stay in the safety of their homes. After hearing of the effects that COVID-19 has on the elderly community, we made this program a top priority since day one. Between 50 and 150 hampers are continuing to be being delivered each day.
As an update to the meetings with the Manitoba Association of Friendship Centres, the MMF has committed to distributing up to $500,000 to support the 11 Friendship Centres across Manitoba. We commend these Centres for what they have been doing and will continue to meet with them to support their COVID-19 emergency responses.
Some people are reverting to harvesting to stock their freezers with food. We all know people at this time of year start to prepare for the spring hunt for geese and ducks. Make sure you have your Metis Harvester card with you. We have extended the expiry date of your Conservation Trust Fund (CTF) stickers until June 1, 2020. On June 1, big game tags and CTF stickers will be available. Those who still have their bear tag from 2019-20 can use this until June 1, 2020. This may change depending on the COVID-19 situation, but we will be sure to keep you up to date.
I am very proud of the Provincial Youth Advisory Committee as they are also helping each other in this time of crisis. They are working on videos and have already posted one; we all look forward to their continued initiatives. We want to make sure that students don't get left behind. The MMF has committed to giving nearly $1.7 million to Metis students, many of whom are at home because schools have shut down.
LRI is also in discussions with post-secondary institutions to create a plan with the unexpended education dollars as a result of COVID-19. The MMF has your back.
At the beginning of this month, the MMF hosted the first-ever edition of The Beat Goes On, a livestream featuring Metis music for everyone to enjoy from their living rooms. We received a lot of positive feedback from viewers and have decided to make this an ongoing program, expanding to two days a week. Please visit our website at www.mmf.mb.ca or the MMF Facebook page on Thursdays at 7 pm and Saturdays at 2 pm. If you are unable to watch the livestream, the videos will be online for you to view at your convenience. This is a way for you and your loved ones to connect and celebrate Metis culture in a responsible way during these times of social distancing.
Our thoughts and prayers go out to all those families that are suffering the loss of loved ones now, but especially during COVID-19. We know this makes the grieving process that much harder with physical distancing and the hardships now faced with limited direct family supports.
My heart is with everyone in isolation in their homes. Though we must stay six feet apart, we will all stand together. The Metis Nation is strong when united and we will emerge from this stronger than before.
Meeqwetch,
MMF President David Chartrand
2019-20 Metis Harvesting Season Extended to May 31
The Manitoba Metis Federation (MMF) has extended the 2019-20 Metis Harvesting season until May 31, 2020, or later, as necessary. The 2020-21 Harvesting season was scheduled to open on April 1, 2020, but it will now begin on June 1, 2020.
In order to avoid visiting their Regional Office due to concerns regarding COVID-19, Metis Harvesters will be able to use their current Conservation Trust Fund (CTF) stickers and tags until May 31, 2020. CTF stickers and big game tags for the 2020-21 season will be available on June 1. Except for bear, the season for harvesting big game does not open until July 15. Harvesters who still have a remaining bear tag from the 2019-20 Harvesting season will be able to use that tag until May 31.
MMF President David Chartrand addressed Harvesters in his April 7 President's Message, posted to the MMF website. "I know people are somewhat concerned about having enough food in their freezers, enough food in their fridge, to make sure they take care of their family," President Chartrand said, referring to food scarcity concerns due to empty shelves at grocery stores.
Assuring his Citizens that North America will not run out of food, President Chartrand encouraged Harvesters to hunt for ducks and geese. "Our Elders would love to have a goose; if you can take one to them, please do so. If you have extra geese at home, or extra ducks you're taking, don't be afraid to share them with your fellow neighbour next door," he added. "See if we can, at this time of crisis, all help each other."
While staff is still working and assisting Citizens and Harvesters, the MMF Central Registry Office (CRO) will be closed to the public until June 1, 2020, or later, as necessary, due to situations surrounding the COVID-19 pandemic. The CRO also suspended in-person Citizenship and Harvesting intake appointments until June 1 in order to prevent the spread of the virus.
For questions regarding the Harvesting season, please contact your Regional Office, or the CRO at 204-586-8474 or citizenship@mmf.mb.ca.
MMF Launches Home Enhancement Loan Program for Metis Homeowners
The Manitoba Metis Federation (MMF) is launching a $1.5-million Metis-specific home repair program for low- and moderate-income Metis homeowners. The Home Enhancement Loan Program (HELP) will increase the lifespan of hundreds of homes across the province, and will include services such as accessibility improvements, black mold removal, and roof repair. HELP is now accepting applications, and is anticipated to roll out on May 1, 2020, unless the COVID-19 pandemic delays this date.
"The Home Enhancement Loan Program will be the latest initiative from your Metis Government as we strive to provide our Citizens with the 'head start' promised in 1870," said Will Goodon, MMF Minister of Housing and Property Management.
"This initiative will join the First Time Home Purchase Program, affordable housing projects, and the development of a Metis-specific strategy to address homelessness in our families and communities."
MMF-HELP will provide eligible Metis homeowners with a loan of up to $15,000 for home repairs and enhancements. Eligibility criteria includes having a total gross income not exceeding $85,000 and total liquid assets inclusive of RRSP investments not exceeding $300,000. The loan will be forgiven after five years if the terms and conditions are met.
Preference will be given to Metis Citizens who prove immediate emergency or health and safety-related housing needs. "Funding can also be used to enhance and maintain existing homes to suit changing family composition, including changes related to accommodating the needs of those aging in place," said Minister Goodon.
MMF-HELP was developed in response to the Province of Manitoba discontinuing several emergency repair and renovation programs that supported low- to moderate-income homeowners. These programs, such as the Manitoba Emergency Repair Program for Homeowners and the Homeowner Renovation Assistance Program, offered financial support to make essential repairs for homes to be restored to minimum safety standards.
"Metis Citizens no longer have supports in place to pay for critical repairs to their homes. Many of you relied on these housing programs, and you made it clear to your Metis government that repair programming is an essential need," said Minister Goodon.
"We hear you, and we understand that these repairs need to be made in order to make your home safe, in order to make your home healthy to live in, and especially within these trying and unknown times," he added.
"We look forward to working with you, your families, and your communities to help make our homes even better than they are today."
MMF-HELP was announced at the 2019 MMF Annual General Assembly with a launch date of April 1, 2020. Due to circumstances surrounding COVID-19, the launch has been delayed.
The program is expected to have a significant economic impact for the Metis community, especially for Metis contractors and suppliers. In addition to being a significant wealth builder for Metis families, it will create $1 million in direct wages and an approximate $3-million GDP increase in Manitoba.
For more information on MMF-HELP, please contact the MMF Housing Department at 204-586-8474, ext. 230, or Louis Riel Capital Corporation at 204-589-0772.
Elsie Bear's Kitchen Donates Sandwiches to North End Women's Centre
Elsie Bear's Kitchen (EBK), located at the Manitoba Metis Federation's (MMF) Winnipeg location at 150 Henry Ave., has been donating sandwiches to North End Women's Centre (NEWC). The NEWC is handing out sandwiches every weekday between 10 am and 4 pm to those in need. EBK is now closed to the public due to situations surrounding COVID-19, but it otherwise offers a large breakfast and lunch menu, including burgers, fries, salads, soups, and sandwiches.
EBK's donation of sandwiches to NEWC is part of MMF's larger effort to provide food to organizations that address homelessness and basic needs. Including the NEWC, the MMF is currently handing out 500 sandwiches a day to organizations like Bear Clan and Mama Bear Clan.
The NEWC is a non-profit dedicated to providing programs and services to women in Winnipeg, including addictions recovery, counselling, and information surrounding coronavirus prevention. It also helps women and their families meet their basic needs, and has been organizing supply drives for emergency items such as diapers, baby food, and hand sanitizer.
MMF Providing Self-Isolation Units for Metis Citizens in Response to COVID-19
The Manitoba Metis Federation (MMF) Housing Department is making available five mobile tiny homes for emergencies in villages or towns where families need to self-isolate due to COVID-19. The first three homes are already in the province, and are being equipped with furniture, housewares, and grocery staples.
"In light of the pandemic and health crisis facing all Canadians, your Metis Government is taking proactive steps to protect our Metis Citizens no matter where they live," said Will Goodon, MMF Minister of Housing and Property Management.
"The first three will be dispatched to our rural and northern regions as soon as possible. These three will be stored in Swan River, The Pas, and Thompson."
The tiny homes are able to be moved with little notice, which will make them valuable to the COVID-19 pandemic response.
In addition to the tiny homes, Métis N4 Construction – a Manitoba Metis Government-owned company – has made two secure 48-bed camps available under MMF Energy and Infrastructure Minister Jack Park's direction. These are fully accessible health facilities as part of a larger action of community supports for people entering self-isolation and for those with special needs.
"The Manitoba Metis Government is taking this crisis very seriously and we are all working together," said Minister Park. "If and when the need is there, our new health facilities will be ready. We have a team currently working on intake criteria for both the tiny homes and the health facilities because we need to be ready for what could be coming."
These facilities will be available on an as-needed basis outside the Metis Government use as a benefit to all Manitobans.